Jeannette Kincaid – Head Trainer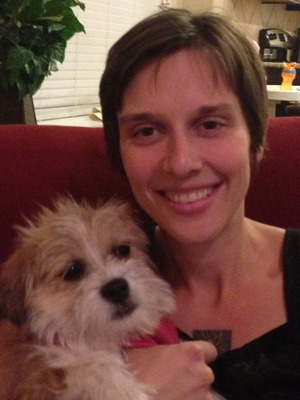 Jeannette specializes in:
Shy/fearful dogs

Helping families with dogs prepare of life with a new baby

Helping families with toddlers and dogs live safely and happily together
---
Contact Jeannette
Jeannette is personally and professionally committed to improving the lives of dogs and their relationships with their owners through positive and gentle training methods. Jeannette earned her  training certificate in 2008 and is devoted to continued education through reading, attending conferences, listening to podcasts and following the careers of her favorite animal behaviorists and dog trainers, such as Ian Dunbar, Emily Larlham, Deborah Wood, Emma Parsons, and many more.
Jeannette specializes in family dog training and is a presenter and educator with Family Paws/ Dogs and Storks. She is dedicated to helping and showing all growing families how to live safely and harmoniously with new children and/or dogs. Sharing her life with a shy dog, she has a special interest in helping other shy dogs blossom and overcome their fears. Jeannette has also loved and shared her life with many rescue and foster dogs. She is aware of the challenges they present as well as the deep connection and bond inherent in such relationships and she loves to see the changes and deep connections made through training.
Jeannette is committed to bringing her passion and knowledge of dog training to as many people and dogs as possible! She currently shares her life with her lively five-year old daughter, her husband, and their two dogs – Lydia, a ten year old Border Collie/Aussie mix and Pixie, a one year old Border Terrier/Shi Tsu mix.
Jeannette is about to have a baby and will be unavailable for private lessons and classes until mid-September.
Heather Clever – Senior Trainer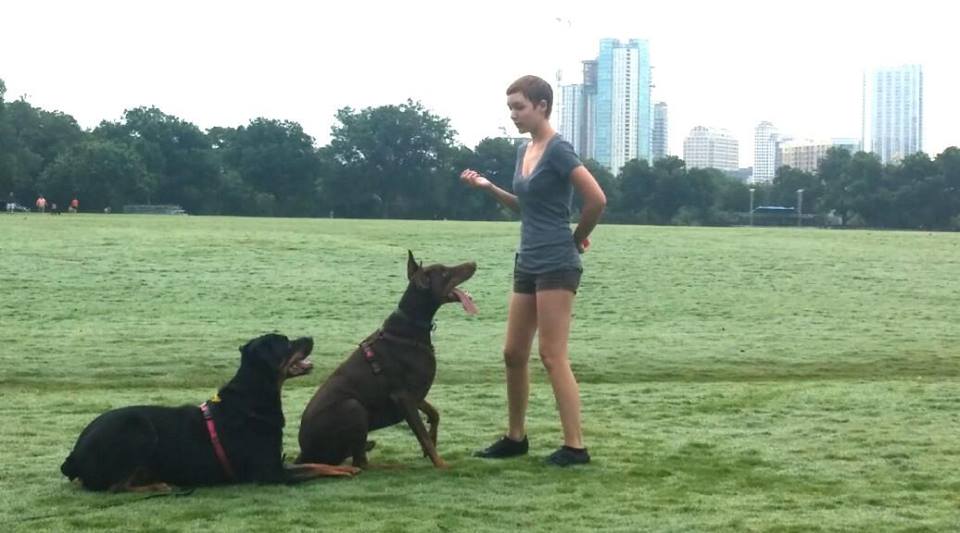 Heather specializes in:
Helping reactive and fearful dogs
Puppy socialization
Reward-based snake avoidance training (no shock collars)
---
Contact Heather
Heather has had a fascination with animal behavior for as long as she can remember. Though she trained her own assorted species of pets for many years, she became truly entrenched in dog training when her current dog, a Rottweiler named Antonio, came into her life over six years ago. He has taught her much about positive training and working with reactive and aggressive dogs. She understands the frustration and worry that can come with sharing one's life with a reactive dog, and one of her passions is helping such dogs and their owners to learn to navigate and improve their situation.
Heather is certified through Animal Behavior College and is a member of the Association of Professional Dog Trainers and the Pet Professional Guild. She is constantly updating her training knowledge through books, DVDs, conferences, and seminars.
Heather recently moved from Phoenix, AZ, where she ran her own training business and volunteered her training services to organizations such as Desert Harbor Doberman Rescue, Tough Love Pit Bull Rescue, and Arizona Animal Welfare League. Her experience helping the many dogs of these groups has been invaluable to her, and she plans to continue her volunteer work in Austin.
Cameron Heikkila – Trainer
Cameron has always had a passion for animals, but his love for dogs stands above all else. Living with dogs his entire life, he became fascinated by their intelligence and unconditional love, and learned how to interact with them and read their body language at an early age. He currently shares his life with three wonderful dogs; A fifteen year old chow mix named Ruby, and two papillons named Watson and Holmes, ages five and three. While Cameron is devoted to all dogs, he has a special place in his heart for seniors and large breeds. By teaching pet parents to properly communicate with their dogs, Cameron hopes to foster understanding between man and his best friend. By learning to speak dog, we can give back to our furry friends for all they do for us!
Cathy first found a passion for dog training after her beloved German Shepherd mix Chaney passed away in 2007. Feeling the need to be around dogs, she began volunteering with a friend at the Austin Humane Society, and quickly rose up through the ranks to become a trusted volunteer dog trainer.  In 2010, after having a graphic design career in educational publishing, Cathy began working at shelters, boarding facilities and reading books by experts in the field to expand her knowledge of reward-based training. Her shelter experience at AHS and Central Texas SPCA taught her the value of connecting with dogs to help them feel at ease and bring out their best behavior. Working as a Kennel Tech and Trainer at ARF Dog Training and DogBoy's Dog Ranch exposed Cathy to a myriad of canine breeds and their complex social interactions.
In addition to training, Cathy has a budding interest in canine well-being through avenues such as acupressure and holistic remedies. Stress is often an underlying factor in behavioral issues, and she believes in addressing the whole animal to allow the best possible life for dogs and their human families.
She now shares her life with her two rescue dogs: Crystal, a shy female black German Shepherd, and Karloff, a playful male Rottweiler/Shepherd mix.
Williamson Dog Training LLC purchased Train My Dogs Austin from reknowned trainer Nancy Cusick-Finck (nancy@trainmydogs.com) in late 2013.  While Bill is not a dog trainer yet (although he's learning an immense amount daily from the talented staff at TMDA!) he sometimes works the overnight boarding shifts and helps checks dogs in and out of Day School.  Bill has loved dogs all his life and can frequently be found throwing a ball for his beloved ten year old rescue, Samantha, at local parks around Austin.
Prior to owning Train My Dogs, Bill worked as an investment banker and nuclear submarine officer.  He attended the United States Naval Academy and earned an MBA at MIT Sloan.